She's Co-Owner, Manager & Painting Instructor At Painting With A Twist West Little Rock. Meet Artist, Brittany Wolfe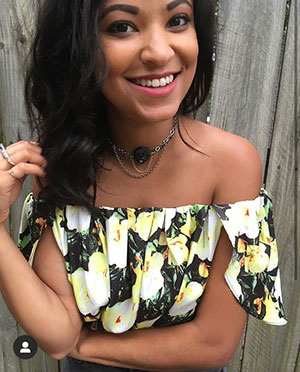 Brittany's personal artwork is heavily influenced by surrealism and street art. She is particularly interested in the surrealist concept of drawing one's dreams.  Her artwork is an abstraction of her daydreams.  These works often consist of ambiguous expressionist environments and include a female figure.  Brittany's work blends pure, classic forms of mark making with sporadic, gestural strokes to bring her fantasies to life.
Q: For those in our audience not familiar with Painting with a Twist, can you tell us about it?
BW: Painting with a Twist is art as entertainment! We walk our guests through a painting step by step; it's the perfect venue for a fun night out getting creative. I have been an artist with the company for 10 years and opened my own studio 6.5 years ago. 
Q: As an Artist yourself, can you tell us which artist or painter has influenced you?
BW: More recently-- Charmaine Olivia, Kate Tova, and Andrea Ehrhardt. These ladies are such an inspiration, and each are great examples of modern female artists that are making a mark on the artworld. As far as classic artists-- Leonardo da Vinci, Norman Rockwell, Salvador Dali, Andy Warhol, and Keith Haring. Banksy is definitely worth mentioning as well!
Q: Did you always want to be an Artist?
BW: I've always been creative. When I was younger, I was torn between music, drama, and visual art. In high school I got more serious about my artwork, and never looked back! 
Q: How much time does it usually take to complete a painting?
BW: It depends on the size and subject matter, but I work very quickly. Painting with a Twist has helped me hone my skills, and my ability to complete pieces within a few hours. Usually, 5-8 hours on average for a more detailed piece. 
Q: Tell us about your work as a Painting Instructor? What do you enjoy most about your job?
BW: I love being able to help people unleash their inner artist. Especially when customers say they have never painted before or haven't since grade school. I love when they end up surprising themselves with how much fun they have and how well their paintings turn out!
Q: Is there a work of art you would like to have in your home next to your own work?
BW: I am in love with everything Charmaine Olivia does, would gladly hang any of her pieces in my home!
Q: After high school, where did you feel your career path would take you?  
BW: I went to the University of Central Arkansas where I majored in Fine Art with a Painting emphasis, and a minor in Anthropology. I wasn't exactly sure where that would lead me, but I discovered Painting with a Twist right before graduating college, and the rest is history! 
Q: Which woman inspires you and why? 
BW: Aside from the awesome female artists previously mentioned, my Mom is my biggest inspiration. She is the most selfless person I know and is constantly giving to everyone around her.
Q: What are some of the challenges you feel women face today?
BW: It can be difficult being a female business owner in a patriarchal society. There is still a preconceived notion that women should be soft spoken, and when you don't necessarily fit that mold it can be a challenge finding balance while being the authoritative figure.
Five Things About Brittany Wolfe

1. If you could talk to one famous person past or present, who would it be and why?
That is a tough one! I'd say Neil Armstrong because I'm fascinated with space and would love to know all of the secrets of extraterrestrial life!
2. What were you like as a student? 
I was always a very diligent student and eager to learn. I still try to learn something new every day.
3. What's your favorite ice cream flavor?
Probably chocolate chip cookie dough, but honestly I'll take any flavor! 
4. What app can't you live without?
Instagram is definitely high up on the list. I love following artists and seeing their process, it's very inspiring! Lately though, I'd have to say What to Expect. As a first time mom to be, that app has been a Godsend.
5. Do you have any hobbies?
Other than painting, my husband and I have recently gotten into disc golf! It's a great way to get out, exercise, and enjoy nature!