Innovation & Hard Work are Not Just Her Aspirations, But Trademarks That Her Past Clients Often Reference.  Meet Principal Real Estate Broker Brandy Harp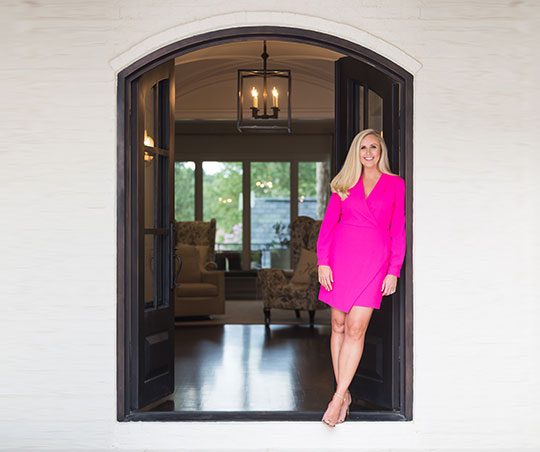 Brandy's journey in real estate started in October of 2000 when she purchased her first home as an investment property. Brandy credits her success to both the mentoring she received from Jon Underhill and the valuable lessons she learned through personal experience. 
Brandy holds a bachelor's degree in Business Administration from the University of Central Arkansas. She was a member of the Leadership Greater Little Rock Class XXXV.  She has been a member of the Junior League of Little Rock for over a decade and was recognized in 2014 as the Member of the Year for her leadership in exceeding the non-profit's fundraising goal for development and donor relations. 

Q: Can you share with us what made you decide to have a career in Real Estate? 
BH: In looking back on my life — I believe I was destined for a career in real estate. In September of 2000, I married the love of my life who builds and renovates custom homes. We both share a passion for real estate. We made the decision to invest in real estate as our predominant retirement plan. We have built six homes together during our 20 years of marriage we celebrate this coming September (pinch me)! At the age of 43, I still love touring homes and helping people evaluate if the space can meet their needs.  
Prior to real estate, I worked at Alltel Communications for 18 years which equipped me with the skills necessary to successfully lead a company and provide an unmatched level of customer service to my clients. I serve as the Principal Broker of Jon Underhill Real Estate where we help our clients buy and sell residential real estate and achieve the dream of owning their own home.

Q: Tell us what Buyers & Sellers can expect when they work with you.
BH: My clients receive an unparalleled level of customer service. I provide a seamless real estate experience which begins with understanding what each client's goals are which enables me to create a strategic plan to deliver superior results. I am a leader within the real estate market in Little Rock, Arkansas with an exceptional reputation my clients attest to. 
Q: What do you think are the ingredients that keep you as a top Realtor year after year?

BH: Top 5 ingredients
Uncompromised integrity and respect.  
Exceptional communication skills which include excellent listening and follow-up. 
Creative problem solving skills!
Perseverance to never give up!
Off the hook marketing and advertising!  
Q: If we interviewed all past clients … what is "one" common word that comes up when they describe working with you?  
BH: The "one" common word my clients use to describe me is an "expert" in all aspects of purchasing, selling, remodeling, and repairing a home – just read the reviews from my clients on Zillow and LinkedIn.  
Q: What was your first job? And how did it shape or impact you?
BH: My first job out of high school was at Alltel Communications, a fortunate 500 company, where I worked for 18 years. I was extremely fortunate to work in various departments learning skills that have been extremely beneficial in my real estate career. I held leadership roles in Marketing and Advertising, Customer Service, Project Management and Process Development. 
Q: Can you tell us how you manage your work life balance?
BH: I struggle in this area and do not have it figured out. I love and adore my family, friends, and community. However, I do not view my job as work! I love truly love my work! 

Q: What's one lesson you've learned in your career that you can share with our audience?
BH: Life is not fair, and it can sometimes be really hard and painful. One of my favorite quotes is to "Stand in the truth" by Rennie Jenkins. I strive to be transparent and authentic. I don't pretend life is perfect. I also do not hold grudges. Life is too short to focus my time and energy on things I cannot control. I want to make a positive difference in the world we live in so I work hard to focus on how I can do that.     
Q: What are some of the challenges you feel women face today?
BH: My biggest challenge is balancing life. Success requires a significant investment of time. I often feel there is not enough time in the day to accomplish all that I want to. I am still perfecting being disciplined to prioritize time for myself.   
Five Things About Brandy Harp

1. What celebrity would you like to meet at Starbucks for a cup of coffee? 
Bon Jovi. I've loved his music for as long as I can remember. No doubt we would have lots to talk about since he has started investing in real estate and is flipping homes!  
2. Who is your favorite Author? 
Brene Brown is my current love! Empathy, empathy, empathy!
3. What motivates you to work hard? 
I am fueled by making a positive difference in the life of others. Buying and selling a home is one of the largest financial assets people possess.  
4. What would you sing at Karaoke night?  
I simply cannot sing so I have never sung Karaoke in my life! I know my strengths and weaknesses! I'm the girl who would be dancing her tail off to "I Gotta Feeling" by the Black Eyed Peas or "Good Life" by One Republic (even if the dance floor was empty). I love music of all kinds!    
5. Do you have any hobbies? 
My husband and I love traveling mostly to tropical locations to scuba dive and fish! Cell phones do not work under the sea, so we practice unplugging, which is hard, yet so important. We live in a connected world with advanced technology that enables us to work extremely efficiently and effectively. Yet striking a balance with boundaries is crucial. We take "lifetime outs" to reset. Our vacations are also our creative time to strategically plan and dream big!